Mauldasche (Maul Tasche)
<![if !vml]>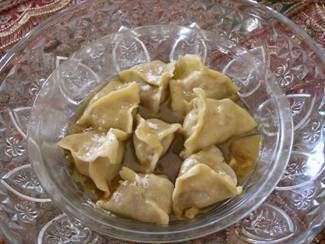 <![endif]>
Photo by Um Yaqoob
This basic recipe of stuffed dumplings has many variations (I have even seen a version from India). This is the filling my mother uses, passed to her by her mother, passed to my grandmother from generations before in Germany and Russia. My mother's cousin, Sweetie, makes her mauldasche with lasagna noodles instead of the rolled-out dough. I have used spiral noodles as well. Tastes OK but not the same!
The perfect atmosphere for making mauldasche is a warm kitchen in a severe autumn wind and lightning storm, daughters at the table rolling the dough and spooning the filling, visiting grandmother pinching the dumplings together and mother stirring the pot of water, the latter two speaking German softly with each other, Grandma Mollie talking to us in her Julia Child voice. Remembering eating them hot in such company with a cup of coffee or tea is one of the strongest tear-jerking memories I have of growing up: secure, relaxed, loved, warm.
Start by boiling a large pot of water.
Work together
1 cup flour
Dash salt
1 egg
adding drops of water as needed to make a smooth noodle dough. Knead, then roll out very thin. (Double or even triple this if you are not very good at rolling out thin!)
Have ready, mixed together
2 cups strawberries, fresh or frozen, chopped
1 small container cottage cheese
1 egg
2 pieces toast, made into fine crumbs which are then browned in butter
Sugar to taste, usually a few tablespoons
Cut dough into small squares (about 3 inches on each side). Put a small amount of filling in each, then bring opposite corners together, pinching tightly down seams.
Boil dumplings in water until firm, a few at a time, stirring the water to keep the dumplings from sticking.
Brown some butter and pour over mauldasche, then sprinkle with powdered sugar and more buttered bread crumbs.
Russian Teacakes/Cookies (also known as Mexican Wedding Cookies)
<![if !vml]>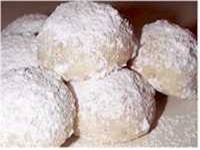 <![endif]>
Photo courtesy Stephanie Jaworski ( www.joyofbaking.com)
Mix together
1 cup butter or margarine
½ cup powdered sugar
1 tsp. vanilla
Set aside. In a separate bowl, sift together
2 1/4 cups flour
1/4 tsp. salt
Stir into first mixture. Stir in
3/4 cup finely chopped nuts, if desired
Mix first three ingredients together, then stir in flour and salt. Add nuts. Chill dough until firm.
Heat oven to 400° F (205° C). Roll dough into 1-inch balls and place on ungreased baking sheet (Cookies do not spread, so you can place them close together). Bake 10 to 12 minutes, or until set (do not allow them to brown). Allow to cool a bit, then roll them in powdered sugar. Cool and roll them in powdered sugar again.
Russian Spiced Tea
<![if !vml]>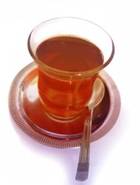 <![endif]>
Our German neighbor in Denver gave this recipe to my mother in the 1970s—she still has the handwritten index card. We used to make up a large batch of this and put it in decorated jars to give as gifts.
Years later and all the way on the other side of the world, I met someone who has exactly the same recipe, even the same order. I wonder if somewhere down the line we are connected through this neighbor!
1 ¼ cups instant tea
2 cups sugar
2 cups instant orange drink mix (like Tang)
2 packages instant lemonade mix
2 tsp. ground cinnamon
1 tsp. cloves
Mix together and store in airtight container. Use 2 ½ tsp. mix to one mug of hot water.
There is also a traditional version, which is:
In a large pot, brew
8 cups boiling water
5 tea bags
Remove tea bags after 3-5 minutes, then add
2 cups orange juice
1 cup pineapple juice
3 tbsp. fresh lemon juice
1 cup sugar
1 tsp. whole cloves
2 cinnamon sticks
Simmer for 30 minutes. Makes a nice tea punch and a nice smell!
Bienenstich ("Bee Sting" Torte)
<![if !vml]>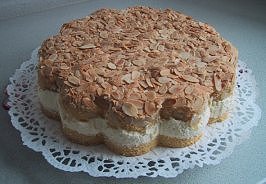 <![endif]>
Photo by Angelika Gellert
First, prepare the cake:
Preheat oven to 375° F (190° C). Grease and flour a 9-inch spring form pan.
Sift together
1 3/4 cups flour
3 tsp. baking powder
1/2 tsp. salt
Set aside. In a separate bowl, cream together
8 Tbsp. (1 stick) butter
2/3 cup sugar
Add, one at a time
2 eggs
Beat well. Add
1 tsp. vanilla
Stir in flour mixture 1/3 at a time, alternating with
6 Tbsp. milk
Stir until just thoroughly blended. Pour into spring form pan.
Prepare the topping:
Melt
6 Tbsp butter
Add

1/3 cup granulated sugar
Stir until sugar is melted. Do not boil.
Add
3/4 cup blanched sliced or slivered almonds
Pinch of cinnamon
1 tsp vanilla
3 Tbsp heavy whipping cream

Stir constantly over medium heat until the mixture becomes soft and spreadable but do not allow to brown. Cool.
Pat a spoonful of flour over the top of the cake batter using the back of a spoon. Pour the almond mixture evenly over the batter. Bake 25 minutes or until toothpick comes out clean. Cool.

While cake is baking, prepare filling:
Mix together
2 packets vanilla-flavored pudding mix (not instant)
1/3 cup plus 1 tsp. sugar
2 2/3 cups milk
1/2 tsp. almond extract
Prepare as directed on mix box, substituting above amounts of sugar and milk for amount on box. Leave to cool, stirring from time to time. Cover with plastic wrap to keep skin from forming.
Beat
1 cup heavy cream
For 30 seconds. Add
1 packet instant whipped topping mix
Beat until cream mixture is stiff. Fold whipped cream into pudding. Chill.
Assemble torte:
Slice cooled cake in half to make two layers. Place bottom layer on cake plate. Spread with all of the filling. Top with the second layer, almond side up.
Refrigerate. Serve chilled.
Can also be frozen.
Pavlova
<![if !vml]>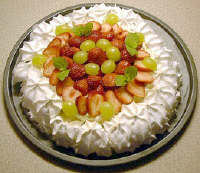 <![endif]>
Photo courtesy PastryWiz (http://www.pastrywiz.com/cakes/)
"This dessert is named after Anna Pavlova, a famous Russian ballerina. Born in St. Petersburg in 1881, Pavlova overcame humble beginnings and physical setbacks to become the most well-loved (sic) dancer of her time, worshipped all over the world. This delicate dessert was created in her honor. Her most famous role was in The Dying Swan, a ballet that was choreographed especially for her. She died at the age of 50, of pneumonia. She is famous for her last words. Moments before her death, she said, 'Bring me my swan costume.'"
From The Accidental Scientist, Science of Cooking
http://www.exploratorium.edu/cooking/eggs/recipe-pavlova.html#
Australia and New Zealand both claim this dessert as their own.
Prepare the meringue shell.
In a small metal or glass mixing bowl, beat together at high speed until fluffy
4 egg whites at room temperature
½ tsp. white vinegar
Slowly add
2/3 cup sugar
When egg white mixture is very stiff, add
4 teaspoons cornstarch
1 teaspoon vanilla extract
Wet a piece of parchment or wax paper, crinkle it up and line a baking sheet with it. Draw a 10-inch circle on the paper as a guide then turn it over.
Add a star tip to a pastry bag. Fill pastry bag about half full with the egg foam and twist it closed. Squeeze the pastry bag and make a meringue circle following the circle on the wax paper. Pipe stars along the edge. Keep piping higher and higher until you have a deep bowl.
OR
Use a spoon to mound the meringue on the paper and make a well in the middle, creating a bowl-shaped shell.
Bake in a preheated 300˚F (150˚C) oven for 35 minutes. Turn off the oven and let shell dry in the oven, with the door closed, for one hour or overnight if you wish. Remove the shell from baking sheet and store in airtight container until ready to use.
The traditional filling is kiwi and strawberries drizzled with a sugary sauce, topped with fresh whipped cream. Other fresh fruit such as peaches, apricots, blueberries, grapes, mango, papaya or a fruit mixture can be used, alone or combined with ice cream. It can also be decorated with chocolate shavings.
Serve immediately to prevent meringue from becoming soggy.