Night at the Movies: Casablanca by guest editor (from TCM network) Bret Wood
In the six decades since its 1942 release, Casablanca has grown into such a legend that it almost transcends mere cinema. Its lines of dialogue can be quoted by people who have not even seen the film: "Here's looking at you, kid," "I think this is the beginning of a beautiful friendship," and the oft-misquoted "Play it, Sam."

The production design of Casablanca has come to represent the aesthetics of romantic longing. Its smoky casino, fog-shrouded runway, trench coats, potted palms and gruff-voiced pianist repeatedly surface in contemporary films, commercials, television programs and even restaurant decor as respects are paid to this quintessential Hollywood classic.

If Citizen Kane (1941) represents the pinnacle of artistic daring-do and Gone With the Wind (1939) epitomizes the colorful bombast of the American epic, then Casablanca is surely the film that defines cinematic cool.

The plot revolves around "Rick's Cafe Americain", a bar and casino in Northern Africa which serves as a way station for expatriates and political refugees at the dawn of World War II. Rick (Humphrey Bogart) refuses to take sides with any nationality, but when a former lover (Ingrid Bergman) and her new husband (Paul Henried) arrive in Casablanca, desperate for visas, he is drawn into the volatile web of political and romantic espionage.

The ingredients that have made Casablanca such a timeless classic are not easy to pinpoint. Produced by Warner Bros. at the height of the Hollywood studio system, Casablanca embraced what is now known as "invisible style." Rather than dazzling the eye with eye-catching visuals and histrionic acting, it seduces the viewer by creating a seamless, lush universe that gradually envelops the audience. Hardly an effortless accomplishment, "invisible style" required an absolute mastery of the various cinematic elements by its collaborators, including Hungarian director Michael Curtiz (Mildred Pierce, 1945), director of photography Arthur Edeson (The Maltese Falcon, 1941), Art Director Carl Jules Weyl (The Big Sleep, 1946), composer Max Steiner (Gone With the Wind) and soon-to-be-director Don Siegel (Dirty Harry,1972), whose dynamic opening montage invests the film with a sense of political urgency.

It took no less than six writers to transform Murray Burnett and Joan Alison's unproduced play Everybody Comes to Rick's into Casablanca, taking a conventional exotic romance (patterned after Algiers (1938) and Only Angels Have Wings, 1939) and investing it with a subtle, richly-textured brand of drama all its own.

Although George Raft and Ronald Reagan were rumored to have been considered for the starring role, only Humphrey Bogart could have endowed the character with such emotional depth in so few words. Tight-lipped and tough on the outside, while wounded and sentimental within, Bogart's nuanced performance as Rick Blaine is the capstone
to this extraordinary cinematic achievement that shows no sign of succumbing to the frailties of age.

Producer: Hal B.Wallis
Director: Michael Curtiz
Screenplay: Julius J. Epstein, Philip G. Epstein, Howard Koch, based
on the play Everybody Comes to Rick's by Murray Burnett and Joan
Alison
Art Direction: Carl Jules Weyl
Cinematography: Arthur Edeson
Costume Design: Orry-Kelly
Film Editing: Owen Marks
Original Music: Max Steiner
Principal Cast: Humphrey Bogart (Richard "Rick" Blaine), Ingrid
Bergman (Ilsa Lund Laszlo), Paul Henreid (Victor Laszlo), Claude
Rains (Captain Louis Renault), Conrad Veidt (Maj. Heinrich Strasser),
Sydney Greenstreet (Senor Ferrari), Peter Lorre (Ugarte)
BW-103m. Closed captioning. Descriptive video.


A Star in Our Crown: Ingrid Bergman
Come with me to the Casbah–contributing editor: Marline
and the heat and sultry allure of the Casablanca-inspired fashions. The layout is done in sepia tones, everything in ivory and beige and taupe. Here's a fitted linen suit with deep pockets in the front and a neat tailored skirt with back kick pleat--the model is Marissa, her stunning red hair pinned into a modern take on a 1940's do, soft waves clipped back to accentuate her lovely cheekbones. Her shoes are peep-toed platform sandals, very in vogue now and then. A gorgeous evening gown lights up the next page...
Marissa is posed next to a piano, cocktail resting on the nearby table. She looks pensively out of the camera...eyes softly sad. Her dress sparkles with sequins; the top is a softly striped black and white bodice that comes just to the waist, the skirt is a long black affair, but the stripes are less sporty than a graphic note.
The final layout is the de rigeur trenchcoat--a modern version by Stella McCarthy, done in the style of the 40's but with cunning contemporary fastenings. It's paired with a slouchy fedora- style hat, pulled low over the model's face. There is a suggestion of an airplane behind her, but it is out of focus and fogged in. The article about the movie is the text for the accompanying feature...the sidebar about the fashion designer for the movie tells of Orry-Kelly's years in the studio system and how he was the very designer who created the laughable costumes for Jack Lemmon and Tony Curtis in "Some Like It Hot", Billy DeWilder's hilarious comic romp.


<![if !vml]>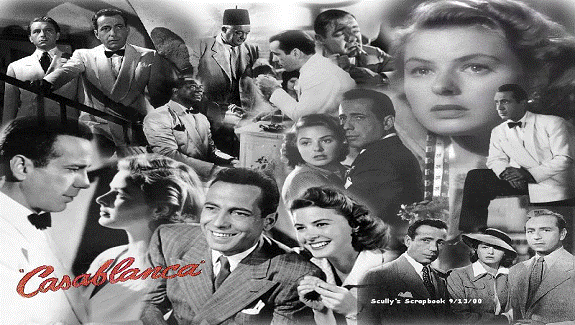 <![endif]>